Effigy Labs
Heavy Equipment and Vehicles
Automotive/Trucking
Marine and Harsh Conditions, IP67 Boxes
Gaming, Consoles, Joysticks
Film Industry and Camera/Boom/Axis control
Medical/Dental, microscope and surgical robot fine control systems
CAD and DFM Solutions
3D Printing Solutions
Rubber and Plastics, Molding and Casting Solutions
Aerospace & experimental industries
_________________________________________________________
Located in Plano, Texas, Effigy Labs is an award-winning music technology research and development company that is staged to bring a completely new paradigm for interacting with technology. Effigy's patented sensors bring precision machine control in a solid state, durable human interface device. Effigy is now changing the music world with the first product to use these sensors, the Effigy Control Pedal.. The brainchild of Face, and Jody Roberts, this new and innovative company brings a new and fresh approach to musical instrument design and technology. Bringing decades of experience and real world know-how to it's products, Effigy Labs is making a grand impact in the world of music technology innovation.
Jody patiently breathing life into the Effigy Labs pedal.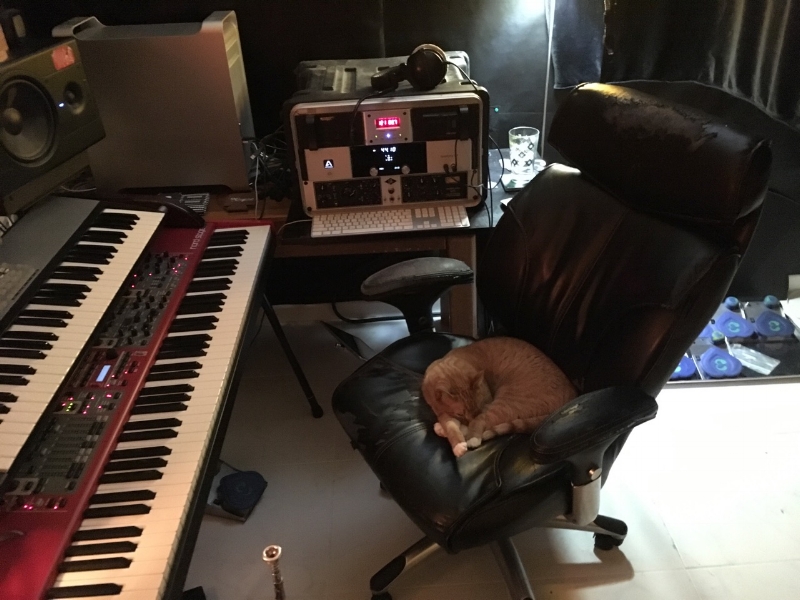 "Miles B.B King", Effigy Official testing lab kitty 2011-2018. Holding down the lab in sleepy style.
Face and Mike at the NAMM Booth
The Effigy Labs line, producing pedals, Nov. 2018
Wet line to the left, restaurant rack and trays holding pedals in various stages of assembly, and the Bin Of Learning in lower right