The Effigy Labs Control Pedal
Introducing the Effigy Labs Control Pedal
"A new way to play."
We are extremely honored to have Vibraphonist Dana Sudborough as our debut Effigy Labs Artist.
His modern use of electronics and background as a true improvisational artist inspire us onward. Check out Dana with Electric Bedouin to hear more of what he does best. http://danasudborough.com/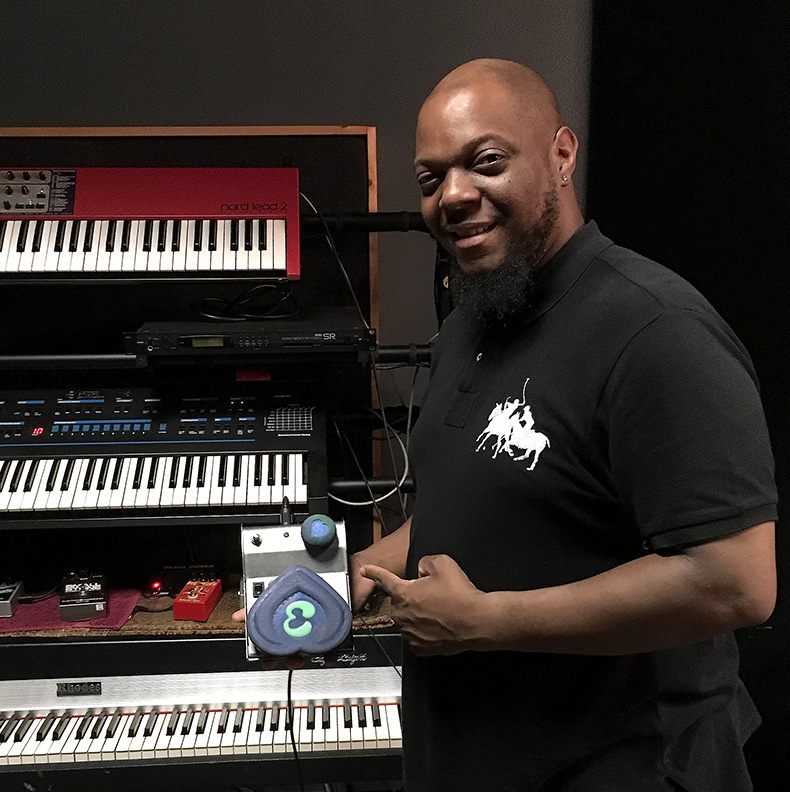 We are just blown away to have Shaun Martin as our new Effigy Labs Artist.
Shaun's brilliant approach to the keyboards and his warm and passionate persona are defined every time we hear him play. We can't wait to hear more of him on tour and in the studio. Find out more about Shaun and where he's playing next at http://www.shaunmartinmusic.com
"Blue and Green" and lovely the same.
Controlling multiple destinations of parameters and then setting up minimum and maximum modulation constraints really allows for some gorgeous sound manipulation.
Presenting the Effigy Labs Control Panel. Get your hands dirty.
Our new Control Panel allows precise configuration of the Effigy Labs Control Pedal from a standalone app. You can get your hands dirty with some serious editing. The control panel looks like the pedal, so it's easy to use, yet powerful. Download or launch here
A recent sighting of the Effigy Labs Control Pedal in it's native habitat.
This pedal makes a great home in my keyboard rig. I love everything about this instrument/pedal. It allows for so much more control. It's now a staple of my sound.
-Face of the "Dirty Groovz"
Effigy Labs and horns is a sweet combination.
"Using the Effigy Labs control pedal with Ableton and Logic Pro has brought an entirely new and inspiring approach to the way I use efx to shape sound. It's heart shaped performance surface is mid blowing for morphing between sounds. It really opens up what can be done live." -Face, The Dirty Groovz